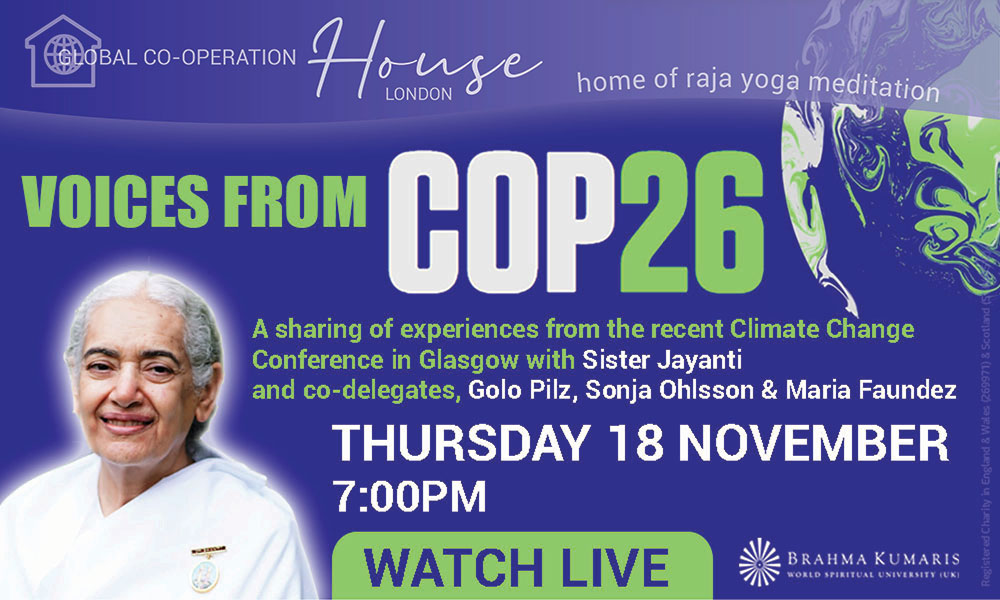 A sharing of experiences from the recent Climate Change Conference in Glasgow with Sister Jayanti and co-delegates, Golo Pilz, Sonja Ohlsson & Maria Faundez

Sister Jayanti,
Additional Administrative Head of the Brahma Kumaris
Main representative of the Brahma Kumaris to UN, Geneva
Sister Jayanti is also the Director of Brahma Kumaris activities in Europe and the Middle
East. As a spiritual teacher for over 50 years, she has dedicated her life to self-transformation and service to humanity. Since 2009, she has led the Brahma Kumaris delegation to the UN Climate Change Conferences and spoken on many international platforms about spiritual perspectives on the environmental crisis. Sister Jayanti sees the erosion of spiritual values as the underlying cause of the crises the world is facing today.
Golo J. Pilz, Germany/India
Advisor on Renewable Energy
Golo Pilz of German origin has practised Raja Yoga meditation since 1984. He lives most of the year at the main campus of the Brahma Kumaris in Mount Abu, India. Since the early 90s, he has established the Brahma Kumaris as one of the major users of renewable energies in India. Recently, Golo has directed the construction of India One, a 1MW solar thermal power plant. This innovative R&D project was partly sponsored by the German (BMUB/GIZ) and Indian Governments (MNRE). Golo advocates sustainable solutions through an ethical and value-based approach. He is an experienced presenter and participates regularly in UN Climate Conferences.

Sonja Ohlsson, Denmark
Designated Contact Point to the UNFCCC
International Coordinator BK Environment Initiative
Sonja is the director of Brahma Kumaris in Denmark and has practised Raja Yoga meditation since 1986. She is a meditation teacher with the Prison service in Copenhagen. In 2009 she was instrumental in developing BK Environment initiative in order to meet the need for a higher environmental awareness within the international BK community and to add the inner dimension to the discussions at the UN climate change and biodiversity conferences, plus to the UN Environment Assembly.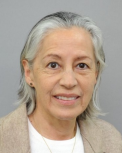 Maria Faundez
UK Brahma Kumaris Environment Initiative
Maria Faundez, a British citizen of Chilean origin, is the coordinator of Brahma Kumaris
Environment Initiative in London, which aims to create greater environmental awareness in the Brahma Kumaris community. In 2019 she attended the Bonn Climate Change Conference and participated in the COP25 Civil Society events in Chile. Maria works with local and international environment groups contributing to environmental events and networking with faith-based communities.